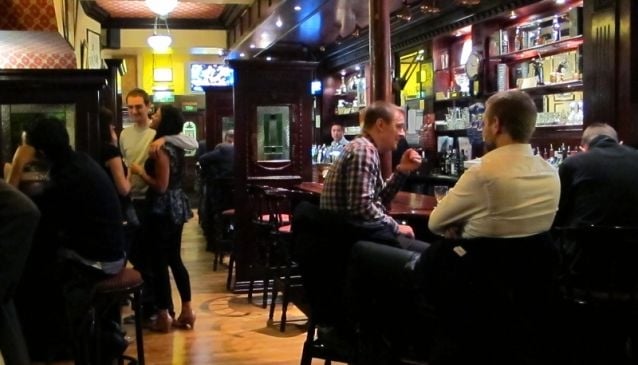 The Camden Crawl
Food & Drink
At this point we were deep into "Can I just say, you're my best pal..." territory.
When My Guide Dublin boss Emily mentioned that they wanted to document a pub crawl for their online Dublin guide, I immediately told her I was the man for the job. What could be more enjoyable than being given a war chest and a battle plan to visit as many boozers as possible in a single evening?
As a Dublin-based journalist, naturally I also came equipped with ample professional experience in this area. The only problem? Trying to remember what actually happened. I did take notes, of course - but upon review, strangely my handwriting had become increasingly convoluted and tortured as the night flowed by.
I roped in a writer pal - we'll call him 'Joe' - and we decided to carry out our assignment along Camden Street. Let's help out the headline writer right here and describe it as the 'Camden Crawl' (Headline Writer's note: thanks for that). The street, less than half a mile long, lends itself to pub crawling as it's home to a series of watering holes which any self-respecting drinker should be aware of.
First up, a couple of post-work pints at The Bleeding Horse. Why the intriguingly gory moniker? Apparently the namesake animal fetched up on this site after fleeing a battle in nearby Rathmines in 1649 - well, that's one story anyways.
The Bleeding Horse stands tall at the top of Camden Street Upper, making it a logical start (or end) to any crawling hereabouts. Unfortunately for us we ended up beside a group of guys in suits who were in love with the sound of their own voices (and seemed intent on high-fiving each other until someone's arm was broken). Nevertheless, it was a lively place to begin our mission, and the Guinness was good. Ready for further research, we decided to check out neighbouring Cassidy's.
Cassidy's is a much calmer establishment where you can bring in your newspaper - if, indeed, you still buy one - open it up to the crossword page, order a drink and quietly kill an hour or two. Which is not to say that the place doesn't see its share of excitement - in fact, former US President Bill Clinton popped in some years back when he was in town. And at weekends, Cassidy's can get pretty hectic - but that wasn't the case on the night we turned up. That suited us just fine as it's a nice place to sit and soak up the traditional pub atmosphere.
However atmosphere only goes so far when you've got an assignment to complete, and I'm nothing if not professional. We finished our drinks and hit the bricks.
About 100 yards down Camden Street is an interesting little place called Anseo (roughly pronounced 'on-SHUH' - meaning 'here' in Irish). This spot has become well known for featuring some of Dublin's more in-demand DJs in recent years, however it was still a bit early for the city's trendsetters to emerge. Anseo also pull a mean pint of the Black Stuff, so we plonked ourselves at the bar and discussed the relevant issues of the day. Nearing the bottom of the glass, Joe suddenly had a craving for a cigarette - we decided to head across the road so that he could suck down a gasper en route.
Conveniently located on the other side of the street is Devitts. I led the charge inside, then wandered around looking at the various sporting pictures and memorabilia on the walls. I'm sure I recorded descriptions of the decor in detail, but sadly it was at this point that my handwriting started to deteriorate markedly. This place is well known for its live Irish music and sure enough, we could hear a session kicking off upstairs. We knew that if we got involved, we might never re-emerge - so instead we took our customary places at the counter and spent an inordinate amount of time deciding what to order.
At this point we were deep into "Can I just say, you're my best pal..." territory, so it's unclear how long we stayed. But some time after 10pm we decided that the love-in had gone on for long enough. We gathered up our change (which was spread all over the counter) and our dignity (which was harder to locate) and strolled down to Ryan's, about 100 yards along. Well known amongst GAA supporters in the city, this pub is absolutely crazy on match days. It's also a bit like the bar in the TV show 'Cheers' - there's a regular cast of characters, so there's always a sense of familiarity about the place. It's also where Joe reckons he left his jacket.
It was approaching closing time, but I knew we could squeeze in one more bar so we crossed over to Against The Grain (technically on Wexford Street, it's all the same road). Up to now I had been drinking mainly Guinness - but that's not an option in Against The Grain, where it's all about craft beer. You'll have to try someting from a smaller brewery, and they've got a huge selection to choose from. Unfortunately, I have no idea what I had on the night - although I often order Galway Hooker Pale Ale, so let's assume I had the same on this occasion. Craft beers are on the rise in Dublin and I can honestly say that Against The Grain is one of the leading lights.
Last orders had come and gone, and it was at this point that Joe started hinting at going to a late bar or nightclub "to do this crawl justice." You have to admire the guy's dedication. I'd like to say I was strong enough to disagree, but my head the next morning suggests otherwise...and the lack of notes taken at this point is probably a good thing. In any case, the rest of the evening is now lost to history, but I was honoured to make that sacrifice in the name of science and My Guide Dublin.