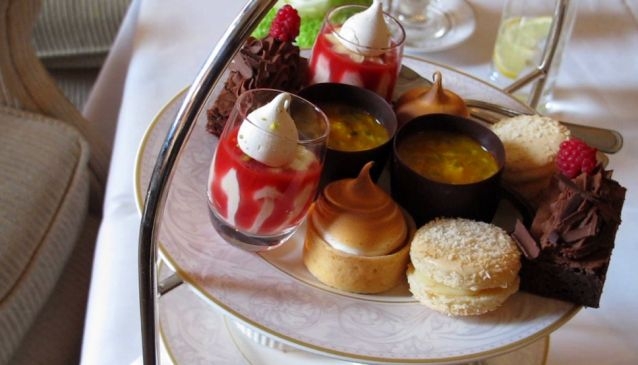 Afternoon Delight
Food & Drink
It's always good to share, and tea for two is one of the best ways to enjoy the experience.
What could be nicer than a 'proper' Afternoon Tea in Dublin? What may seem to the uninitiated to be a glorified cuppa and a snack is, in reality, a decadent treat which never fails to satisfy. The genteel atmosphere, gleaming accessories and steaming pots of Earl Grey provide a welcome break during some hectic sightseeing, or just a chance to catch up on the latest gossip. Then there's the food - dainty sandwiches, flaky scones, gorgeous little cakes. If you're celebrating a special occasion or simply want to add a rosy, soft-focus glow to proceedings, Champagne Teas offer the chance to start with a glass (or two) of fizz before you get stuck in.
So where did it all begin? Anna Maria Russell, the 7th Duchess of Bedford is credited with the 'invention' of what is now an institution. As afternoons wore on at Woburn Abbey with breakfast a distant memory, the Duchess became peckish waiting for the evening meal (customarily served after 8pm). To stave off what she called 'that sinking feeling', she began taking tea and light refreshments in her rooms in the late afternoon. After it became her regular habit, friends were asked to join the Duchess, making it more of a social occasion. The idea caught on, migrated from ladies' private rooms into their public drawing rooms, and soon everyone who was anyone in fashionable society was taking part.
Sometimes referred to as 'High Tea', Afternoon Tea and High Tea are not one and the same. Unlike the upper classes (who had idle hours to while away in the afternoon, the means to afford an extra meal and a late dinner on the horizon), the average factory worker wouldn't arrive home until about six in the evening. Hungry after a hard day's toil, labourers would eat simply, heartily - and relatively early. So it was that in the UK's industrial areas the meal of the working classes of the time evolved: High Tea.
For the purposes of tourism, it may be that the classic Afternoon Tea is advertised interchangeably as 'High Tea'. Alternatively a 'true' High Tea menu may be offered alongside the lighter Afternoon variety. What distinguishes this genuine High Tea? You'll be given a choice of additional savoury items which make it more of a substantial nosh than a lavish nibble.
It's always good to share, and tea for two is one of the best ways to enjoy the experience. Over the years my Mum and I have observed this ritual whenever we're both on the same continent (which isn't often enough). Now that I live in Dublin, we were looking forward to sampling the local offerings. Our quest for tea transcendence began at The Merrion Hotel. The five-star Merrion's 'Art Tea' dishes up delicious edible morsels of nineteenth and twentieth century art, featuring indulgent creations inspired by their own impressive collection.
We were ushered into The Merrion's beautiful Georgian Drawing Rooms (the Art Tea is also served on the Garden Terrace in fine weather). Understated and classically decorated, the drawing rooms are full of period-style furniture, fresh floral arrangements - and of course, some of that fine artwork. We settled into sofas by the fireplace, near a cheery blaze crackling away.
Upon ordering the Art Tea, refreshing pots arrived straightaway. This was quickly followed by a tiered stand groaning with Savouries (Chicken and Pesto on Sunflower Bread, Oak Smoked Irish Salmon on Brown Soda Bread with Horseradish Cream, Cucumber with Cream Cheese and Chive on Tomato Bread, Bridge Rolls with Egg Mayonnaise and Cress and Rare Irish Roast Beef on White Bread) accompanied by Tea Breads and Cakes (Plain and Fruit Scones, Lemon Bread, Portercake, and not-your-usual-pastel Battenberg served with Glenillen Clotted Cream, Raspberry Jam and Lemon Curd).
Already very well fed, we somehow made room as the final course arrived - the chef's selection of three delicate little pastries, each named after the artwork which inspired it; Roses and Temple, Patrick Hennessy (Rosewater and Orange Mousse on a White Chocolate Feuilletine); Frying Pan, Funnel, Eggs and Lemons, William Scott (Vanilla Biscuit with Orange Curd); and Homage to Fernand Leger, Robert Ballagh (Mango Panna Cotta with Raspberry Jelly).
Unable to eat another crumb, we strolled out into Merrion Square delighted with our first Dublin Afternoon Tea experience.
The next five-star location in our sights was the venerable Shelbourne Hotel, on St Stephen's Green. After walking through the marble lobby, we wandered into the elegant Lord Mayor's Lounge (off to the right). As piano music tinkled and crystal chandeliers twinkled, we were treated to a great view of the Green itself.
After the usual pots of tea, it was time for our Selection of Sandwiches: Roast Charleville Beef and Horseradish, House 'Turf' Smoked Salmon on Guinness Bread, Smoked Knockdrinna Cheese and Tomato Relish on a Brioche Roll, and Shrimp 'Cones' with Cocktail Sauce. Having stuffed ourselves, we got our second wind - hard on the heels of the sandwiches, it was tiered stand time. To tempt us into further gluttony there were warm Plain and Fruit Buttermilk Scones (with Clotted Cream, Butter and Shelbourne Strawberry Jam), Mango and Passion Fruit Mousse Cups, Decadent Chocolate Brownies, little pots of White Chocolate and Strawberry Mousse, Coconut Macarons and Lemon Meringue Tartlets.
Replete and happy once again, we agreed that the Shelbourne, like the Merrion, certainly provides a five-star experience. Afternoon Teas of this calibre may seem a tad expensive, but the sheer relaxation and luxury of the experience justifies the price tag. As does the amount of food - as Duchess Anna Maria intended, these 'little' meals certainly do take the edge off any hunger pangs. In fact, you might plan a late dinner, or skip it altogether!
Art Tea at The Merrion Hotel is served from 3pm to 6pm Monday to Thursday, and is served at 2pm and 4.30pm Friday to Sunday. For reservations or further information, call +353 (0)1 603 0600.
Afternoon Tea at The Shelbourne Hotel is served from 1.30pm to 5.30pm daily (prices slightly higher Friday-Sunday, and on those days there is accompaniment by a live classical pianist). For reservations or further information, call +353 (0)1 663 4500.